When:
June 17, 2017 @ 07:00 – June 18, 2017 @ 20:00
2017-06-17T07:00:00+02:00
2017-06-18T20:00:00+02:00
Where:
Avigliana Sports Center
Via Giovanni Suppo
10051 Avigliana TO
Italy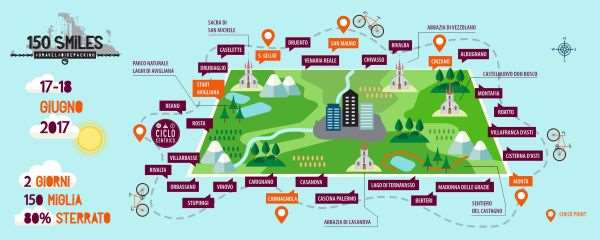 From the Promoter (translated from Italian):
Gradually Gravel Two Day Bikepacking Ride. 150 is the distance in miles to go with Smiles and with the desire to share it with so many others.
The route will take you through three provinces – Turin, Cuneo and Asti, passing through the Natural Park of the Avigliana Lakes, Po River Park, La Mandria, Roero, Langhe, Astigiano and Collina di Torino to end at the foot of the Sacred S. Michele symbol of Piedmont.
80 – 85% of the route, consists of white, easy single track roads, and paved roads with a total elevation of 3,500 metres.
FRIDAY 16/06
For participants coming from outside Turin, there are two "stop zones" in Avigliana (TO):
Camping area for tents and motorhome area for the night of Friday, June 16th.
SATURDAY 17/06
Meeting 07:15 at the Avigliana Sports Center. Departure from 8am to 9am.
Stop and stand first stop: at the Sports Center in Via Ferruccio Novo, 10 in Montà d'Alba.
Free overnight or in the gym (necessary sleeping bag and mattress) with shower and dinner service from 19:30/20: 00.
SUNDAY 18/06
Breakfast from 07:00 | Departure from 07:30 to 09:00.
SMILES
Each participant will have his "travel card" that will have to stamp in the stops indicated. Entry is completely free. It is not a competition, there is no ranking.
The rally will end exactly at the starting place where there will be shower and refreshment service.