When:
June 23, 2018 @ 06:00 – June 24, 2018 @ 18:00
2018-06-23T06:00:00-06:00
2018-06-24T18:00:00-06:00
Where:
Fitzgerald's Bicycles
20 Cedron Rd
Victor, ID 83455
USA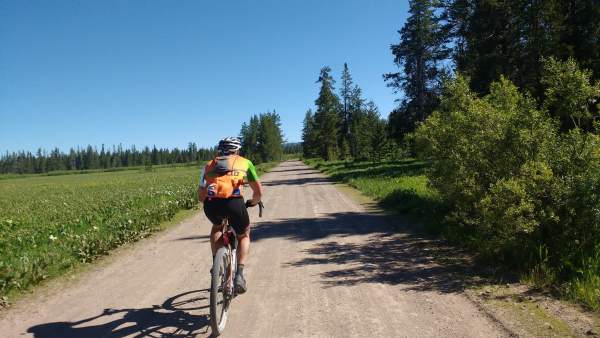 From the Promoter:
Take in the beauty of the Tetons from all angles as you navigate the local gravel around them. See Grand Teton National Park from a different angle.
This is an annual ride of passage, leaving from Fitzgerald's Bicycles each year on the Solstice Weekend. We'll head clockwise around The Rock (The Grand Teton) on a 50/50 mix of gravel and pavement. 154 miles, 6000 feet of climbing and TOTALLY doable for the average fit rider. Whether you ride for speed or ride for the accomplishment it doesn't matter. The beers taste just as good after!
This year's ride will have two options:
OPTION ONE: Ride the traditional ride — 154 miles in one day. Starting at Fitzgerald's Bicycles in Victor, Saturday, June 23rd finishing at Grand Teton Brewery the same day.
OPTION TWO: Start with the rest of the riders at Fitzgerald's Bicycles in Victor, but stop half-way at Flagg Ranch where lodging and nearby camping are available. This is 78 miles (roughly halfway) into the ride, you then finish the rest the next day.
There are some other camping options further into the park which are available too, including a backcountry bike-in campsite at Spalding Bay (mile 108).
This is a great opportunity to get in a bikepacking ride with a bunch of others and have an enjoyable weekend!
This self-supported, 154-mile mixed-terrain cycling adventure is a RIDE OF PASSAGE and sure to challenge anyone who takes it on!
Route: https://ridewithgps.com/routes/22366130