When:
October 27, 2018 @ 08:00 – 14:00
2018-10-27T08:00:00-04:00
2018-10-27T14:00:00-04:00
Where:
Brave Rifles Field
7th Cavalry Rd
Fort Benning, GA 31905
USA

Contact:
Hunter Denton
706-324-1132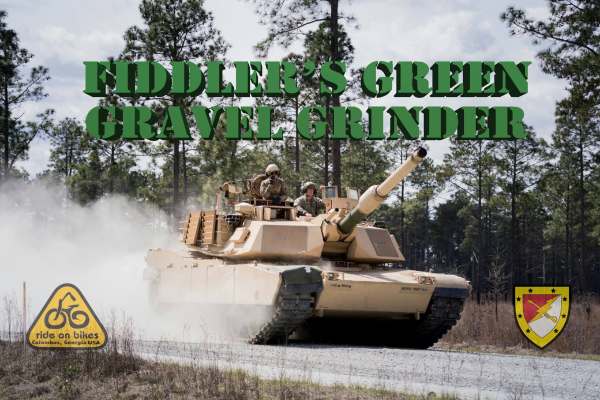 From the Promoter:
We are taking it to the Fort Benning tank trails! This ride will feature a mixture of dirt and gravel roads and will start and finish at Brave Rifles Field on Fort Benning.
The Route:
There will be 25 and 50-mile options and the links to the routes can be downloaded below. Both routes will start along the same route and the split point happens at mile 21 where the 25 miler heads back to Brave Rifles field and the 50 milers will continue on. There will be a rest stop 12.5 miles in, and at the 21-mile marker as well. The 25-mile route will be maximum fun, while the 50-mile route is the route that can offer a challenge, so there will be something for everyone!
The equipment:
This route can be done with cyclocross rigs, gravel-specific bikes, and even a mountain bike will do, come with what you have! We recommend 38c tires or 2″ for the MTB crew. This route has been ridden on 35c tires on a cyclocross bike without too much hassle, so it can be done if you are up for the challenge.
The roads: We will be on 90% gravel/dirt roads. For an idea of conditions, take a look back on this event page to see some of the road surface previews. Since the route will take place on tank trails, the roads are nicely worn in by tank tracks for a smooth ride.
The festivities:
We will have finish line festivities at Brave Rifles Field. For your $40 registration, you will get to ride on closed roads with little traffic, all riders will receive a t-shirt, and a voucher for post-ride refreshments on site.
We are excited to announce that Salsa Cycles will be in attendance and will have some sweet bikes with them for you to take for a spin! For availability and reservation inquiries to reserve for the ride, please email todd@rideonbikes.com.
We will have photo opportunities along the course and will be awarding a $200 gift card to the best photo of the day. Riders can enter using the following hashtags #fiddlersgreengravelgrinder #rideonbikes.
Both routes will have an optional creek crossing with just a few miles to go. For those that decide to participate, we have some prizes stored away at the creek up for grabs!
There will be finishers medals for the top 10 finishers of the 50-mile course, so start training today!
We will be sending out an email to all athletes the week of the event for final details on access to Brave Rifles Field on post.
There will be games and a water feature at the finish, so bring the family out to this one!
You can race the route, or take part in the festivities; either way, this ride will be Type 1 fun!
Links to the routes can be found below:
25 Mile Route:
https://ridewithgps.com/routes/27993181
50 Mile Route:
https://ridewithgps.com/routes/27993340
Address for the start/finish area:
7th Cavalry Rd, Fort Benning, GA 31905