When:
August 25, 2018 @ 09:00 – 17:00
2018-08-25T09:00:00-05:00
2018-08-25T17:00:00-05:00
Where:
Superior National Forest
6479 Colombe Road, Chisholm, MN 55719
USA

From the Promoter: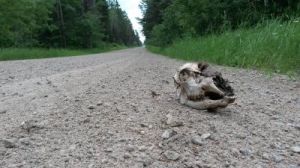 This is a 50-something mile gravel road RIDE, not a race. The terrain is all north of the Laurentian Divide. There are no killer hills though there are a lot of undulations in the road. Most of it is noticeably within Superior National Forest but there are a couple of spots that open up to farmland.
It is unsupported. We'll come get you if you break your bike beyond field dressing, or arrange a ride with flashing red lights and sirens if you need one; otherwise, you are on your own. There are no stores or gas stations en-route. The only water available is in the form of lakes and streams. Prepare accordingly.
Lunch/dinner is potluck. Bring a dish to pass if you wish to participate–make sure you label your dish. We'll organize the food while you are on the road. We don't have a lot of chairs, so if you want to sit on something other than the ground, you may want to bring your own.