When:
July 29, 2018 @ 07:30 – 16:00
2018-07-29T07:30:00-04:00
2018-07-29T16:00:00-04:00
Where:
Crooked Can Brewing Company
426 W Plant St
Winter Garden, FL 34787
USA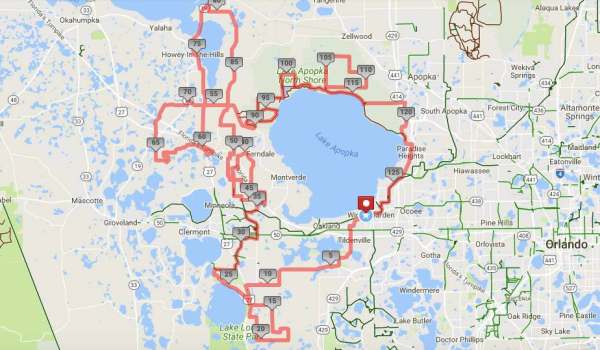 From the Promoter:
Join me for the First annual Junk Miles, full of pain, fun and roads you probably haven't ridden before. The idea is simple, design a crazy hard route and then organize a ride/"race" and make some people do it with me. This ride/"race" will take place throughout some of the best and most challenging roads in Clermont across gravel, clay, sand and hills for a total of 128 miles while climbing over 4200 ft.
This is a ride/"race" so the ride section will be held for people who just want to try to finish the grueling course and the "race" is for those who want to see who can do it the fastest. The route has 3 designated stops, 2 convenient stores and 1 water stop for the "race"(all optional if you want to try and get ahead) and 4 for the regular ride(one added water stop). While it is a "race" we WILL FOLLOW ALL LAWS OF THE ROAD INCLUDING STOP SIGNS, RED LIGHTS AND YIELD TO ONES WITH THE RIGHT OF WAY. If you are performing unsafe actions on the ride you will be asked to stop and not come back to the ride. The start of the "race" will be at the first off-road section and will end at the end of the last off-road section. Hint: Start when you see the clay and finish when you are over passed. Top 3 places get a solid high five and a good job from everyone around.