When:
November 30, 2019 @ 06:30 – 17:00
2019-11-30T06:30:00-05:00
2019-11-30T17:00:00-05:00
Where:
Midwest Trail Ride & Outpost
1264 Hunters Creek Rd
Norman, IN 47264
USA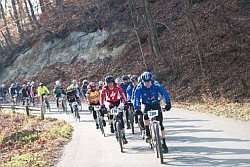 From the Promoter:
Gravel Grovel has been called "Mother Nature's Cyclo-cross Course" through the beautiful and rugged Hoosier National Forest.
It's also an un-level, level playing field, for mountain bikes to battle 'cross bikes. A mix of gravel road, singletrack trail, fire road, and pavement mean that any bike could come out on top for the day; it all depends on the rider and the conditions.
The 60-mile course is the original gravel road race in Indiana… and the 20-mile option gives a taste of the adventure at less of a commitment.