When:
July 28, 2018 @ 12:00 – 20:00
2018-07-28T12:00:00-04:00
2018-07-28T20:00:00-04:00
Where:
Uzhok
Zakarpats'ka oblast, Ukraine
89031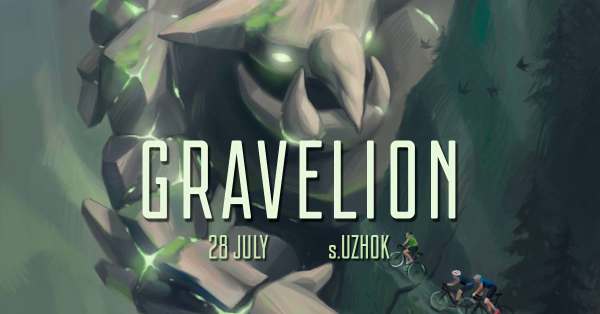 From the Promoter:
GRAVELION is not a sport event, but first of all a good time event. So everyone, who wanted to take part in our Mystic Mountain or BoD events, but was scared or not sure if they could handle it – it`s your time to shine.
Teaser https://youtu.be/agau99y7ipc
BASIC INFO
The race will take place in the gorgeous Carpathian mountains. Event rules are something similar to notorious Grinduro:
– all participants start together in one group
– it`s up to you – you wanna race to win or ride easily and enjoy the view
– few timed segments with rest in the between. The winner is the one who has the least total time
– checkpoint in the middle of the race, where you can rest, eat, get some water and wait for folks who are taking selfies onmountaintopp.
CATEGORIES
– Gravel (28/27.5 inch wheels)
– MTB (Rigid only if you want to race)
– FUN (everybody who rides for fun)
We`ll decide if сategories will be separated later, depending on number of people in each category on start.
ROUTE
Route is not easy, but no one is gonna die))
– 40km with 860m of elevation
– 80% gravel / 20% road (gravel wanna be road)
– two segments, 15-20km each
LOCATION
Race starts nearby the Uzhok village in Zakarpatska oblast(Transcarpathian region).
On one hand this place is far from popular tourist routes, so there are few cars/people and other unpleasant circumstances.
On the other hand – there are all benefits of civilization: affordable hotels, restaurants, WiFi and other.
WHERE TO STAY
Possible options are: camping (if you have tent) or hotels (e.g https://uzhanski-kupeli.com.ua).
All the afterparty madness will happen in the camping, so if you don`t wanna miss the most interesting part – you have to be there))
Participation is FREE.
Registration: Uzhok village
https://goo.gl/maps/2AxuvsuzhZB2