When:
August 17, 2019 @ 08:00 – 17:00
2019-08-17T08:00:00-04:00
2019-08-17T17:00:00-04:00
Where:
S Fork of Little Cacapon Rd
Augusta, WV 26704
USA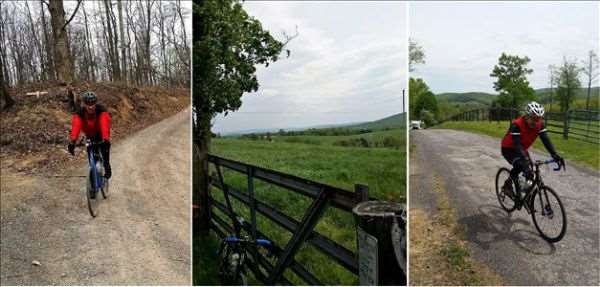 From the Promoter:
Element Adventures is proud to present Gritventure! 2, an adventure ride based out of our Element Adventures West Camp in Augusta, WV.  Featuring quiet gravel roads, stiff climbs, beautiful vistas, and backcountry riding, this ride will bring out the little kid in you!  With three route options to choose from, you'll find the perfect challenge.  Route details are below.
This will be a true gravel adventure: minimal SAG support, no route markings.  Download the GPX files so you can navigate the route (Cue sheets will also be provided).  There will be no aid stations set up, though there will be bars and gels available at the ride start to throw in your jersey pockets to take with you.  You'll need to carry enough water with you to last the ride or refill at stores or spigots found along the way (We will have water available at the top of Nathaniel Mountain for the two longer routes).  You can also refill bottles at about the mile 21 on the long and medium route at the Grassy Lick Kirby Community Center at a spigot.  Be prepared with flat changing tools and spare tubes, as gravel can be rough on tires (Some of the "roads" are now two grooves of singletrack!).  Take a cell phone, but be aware that service can be spotty.  This ride will go rain or shine, and being summer, there are always chances of afternoon thunderstorms.  Be prepared!
Suggested Equipment: A cyclocross or gravel / adventure bike with at least 32-40 mm tires would be your best choice.  A mountain bike would not even be out of place, especially on Short Mountain and Nathaniel Mountain for the Long and Medium routes.  You'll want a wide range of gearing, too, as some of the hills can be steep.  Helmets are required for all participants.
Route Details:
Long Route:
65.1 miles
6,672 feet of elevation gain
Climbs both Short and Nathaniel Mountain
Water at Grassy Lick Kirby Community Center (spigot) and water drop atop Nathaniel Mountain (miles 21 and 41)
Medium Route:
44.8 miles
4,160 feet of elevation gain
Climbs Short Mountain
Water at Grassy Lick Kirby Community Center (spigot) (mile 21)
Short Route:
26.6 miles
2,213 feet of elevation gain
No mountain climbs