When:
October 17, 2020 @ 10:00 – 18:00
2020-10-17T10:00:00-05:00
2020-10-17T18:00:00-05:00
Where:
Kansas
IL 61933
USA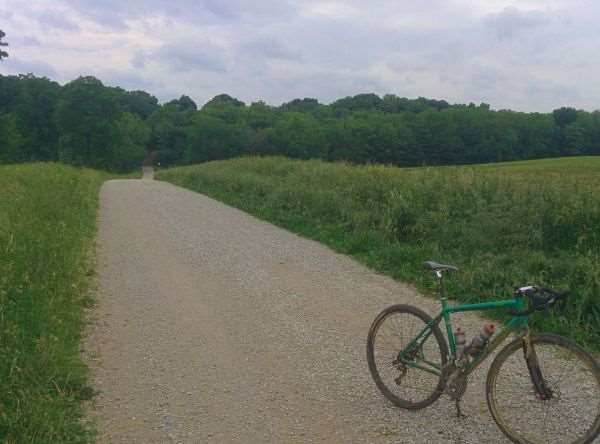 From the Promoter:
The fourth running of the Ill Kanza gravel gran fondo starting and ending in Kansas, Illinois. Come explore some of the best gravel roads in East Central Illinois! The roads wind through forested areas and fields, with some moderate rolling hills, and parts of the route are very rough and challenging. Road tires are strongly discouraged!
  
We will have four routes this year. For a shorter, non-competitive, but still challenging experience for those new to gravel we will have 22 and 33 mile rides, and for the more experienced riders and racers we will have timed 46 and 72 mile routes. These are tougher than their lengths and elevations suggest – as anyone who has ridden before can tell you, even "just" the 46 is very challenging.
  
— Routes —
  
22: https://ridewithgps.com/routes/15953704
33: https://ridewithgps.com/routes/16444022
46: https://ridewithgps.com/routes/15844529
72: https://ridewithgps.com/routes/20239970
  
— Categories —
  
Men's 72 Mile
Women's 72 Mile
Men's 46 Mile
Women's 46 Mile
33 Mile
22 Mile
  
— Registration —
  
TBA
  
— Start Time, Location, and Parking —
  
Start time is 10 AM sharp. Please try to show up at least half an hour early so you can sign in and get ready.
  
Start location is the park at the corner of Front St and Jefferson St in Kansas:
  
https://goo.gl/maps/gsWhmNRpTs72
  
There is some parking available at the park, but you can also park at the lot 200 feet to the south on Buena Vista St:
  
https://goo.gl/maps/oCh9oWZyEEn
  
There should also be plenty of street parking available. Make sure not to park at the bank since we're holding the event on a Saturday this year and the bank is open.
— Course Info —-
This event will be self supported. Make sure to bring spare tubes, a pump or C02, tools, and ideally chain quick links. We will have a number you can call if you really cannot continue but for the most part riders are expected to fix problems on their own.
There will be a table where the course intersects itself, 9.7 miles from the start and 8.9 miles from the end. You can give us supplies to place on the table, and we will provide some snacks and water that will be up for grabs. There is also a soda machine at mile 48.8 on the long course.
  
We will put a sign at every turn that is on a gravel road and not at a T-intersection. The course will also be marked with pavement markings (on paved roads) and flags (everywhere). We will have maps and cue sheets available. If you have a GPS we strongly suggest loading the course onto it.
  
Keep in mind this event is held on public roads! Obey the rules of the road and watch out for traffic.
  
— Timing/Ranking Info —
  
The finish line is about 1.4 miles before the end of the ride. It is marked with a checkered flag pattern sign, and there will be someone there recording times. After a certain point, there may no longer be a timer there (we will try to find a volunteer to stay late this year), if there is no one next to the finish sign make sure to check in at the pavilion and we will estimate your finishing time. If you finish near someone else the order you pass the finish sign is your finishing order. The timer is started when the first rider turns onto the first gravel road, about 1.3 miles into the ride. This means the timed distances are 43.3 miles for the 46-mile course, and 69.3 miles for the 72-mile course.