When:
September 29, 2018 @ 08:00 – September 30, 2018 @ 17:00
2018-09-29T08:00:00-06:00
2018-09-30T17:00:00-06:00
Where:
Pond's Lodge
3757 US-20
Island Park, ID 83429
USA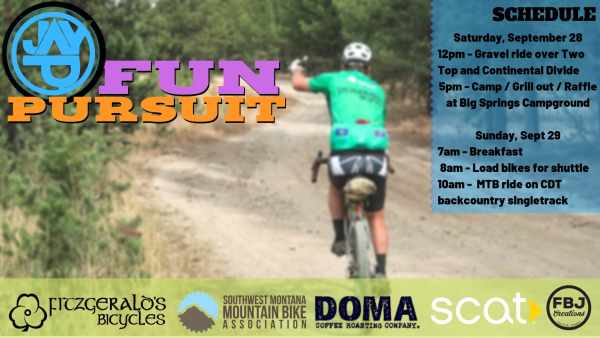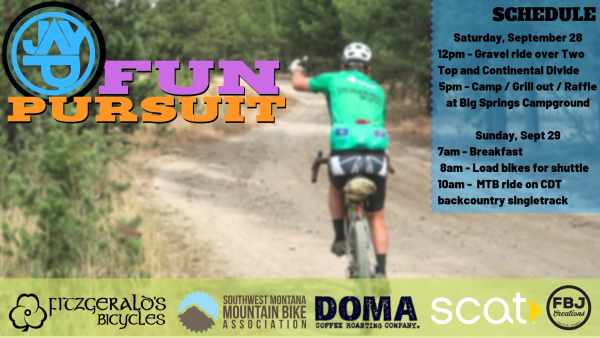 From the Promoter:
The Gravel Pursuit is a 60 or 120-mile bike race that takes place on a network of Forest Service roads in the Greater Yellowstone Ecosystem. The roads vary in surface condition from good gravel, to small cinder like sand, to dirt, to bigger rock, to some rutted washout, to 10 miles of pavement. The roads in the 'flat' lands tend to have the best maintenance and as the route heads into the hills the roads get rougher at times. There is also a 1-mile 'connector' that jumps the state line that is mostly rideable but will require a little on and off.
What bike / tire setup is ideal? Good question and as a second-year event I think this is kind of the fun it as it is still up in the air. I think it mostly comes down to the skills and comfort level of the rider riding on said roads. I have ridden the whole course on my Salsa Cutthroat with 38 mm tires and been just fine. At times, when in the hills, I have questioned myself if a 2.1 tire would be better but then I think back and those sections are very short-lived, literally a washout here and there or where the rock has been turned up from an ATV. With all that being said I will say this is mountain Forest Service gravel road race not a maintained county gravel road race.
You MUST be 100% responsible for yourself out there. The route gets remote at times and in some areas is limited to certain vehicle requirements making it hard to get too. There will be several course marshals on motorcycles, to monitor the other trail users and scare away any animal life. Yes, bears are a real thing out there. You will be riding where the big animals live and on the border of Yellowstone National Park. Take note to the recommended gear.