When:
September 18, 2019 @ 18:00 – September 20, 2019 @ 18:00
2019-09-18T18:00:00+02:00
2019-09-20T18:00:00+02:00
Where:
Erbusco Town Square
25030 Erbusco BS
Italy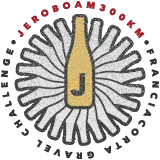 From the Promoter:
THE JEROBOAM 300 IS THE ULTIMATE GRAVEL CHALLENGE. IT IS LONG, THE GRAVEL AND DIRT TRACKS ARE TOUGH, THE CLIMBING IS RELENTLESS AS WE PUSH TOWARDS THE ALPINE SLOPES.
There is also the Magnum 150Km and Standard 75Km, for those seeking routes that aren't as long.
The Jeroboam begins in the Franciacorta vineyards, with its undulating hills and beautiful gravel. As it heads north, it slowly moves into the rougher and tougher mountains. The gravel and dirt tracks get narrower and rockier, and even if some parts may be un-ridable the stunning nature and the sense of accomplishments will be enough as a payoff. When it heads west it circumnavigates the beautiful Lago d'Iseo, providing stunning vistas for those who are still able to enjoy such things. Coming down on the other side of the lake, things won't get any easier (in fact, this side features the steeper slopes) but the sounds of the finish line party will guide you home.
We know there won't be too many finishers, but if you think you can be one of them, this is a unique chance to be one of a very select few riders who can say they conquered the first ever Jeroboam 300.
The Jeroboam is not a race, it's an endurance challenge. Most of the roads are very quiet, but they are shared so everybody must ride responsibly. There are aid stations along the way for food, drinks and technical support, but you should be self-sufficient. If you are stranded with anything short of a medical emergency, you are on your own until you reach an aid station.
The Jeroboam 300 starts at 6pm so lights are mandatory since you will ride in the night, and be sure to have enough battery power as you may need it for the finish too. Race cut-off is 24 hours, with gates along the way at the various aid stations, all based on a 15 KPH average speed. And don't worry if you barely make the cut-off, we'll be waiting for you with some nice food and wine to celebrate!
We also invite your friends and family to join us, and anybody who does not wish to ride will find plenty of things to do at the start/finish line and in the immediate surroundings. You can also make a long weekend out of by adding some relax time along Lago d'Iseo or in Verona and Bergamo.