When:
September 8, 2017 @ 07:00 – September 10, 2017 @ 19:00
2017-09-08T07:00:00-05:00
2017-09-10T19:00:00-05:00
Where:
Mulberry Mountain Lodging & Events
4117 Mulberry Mountain Loop
Ozark, AR 72949
USA

Contact:
Dewey Patton
479-667-1919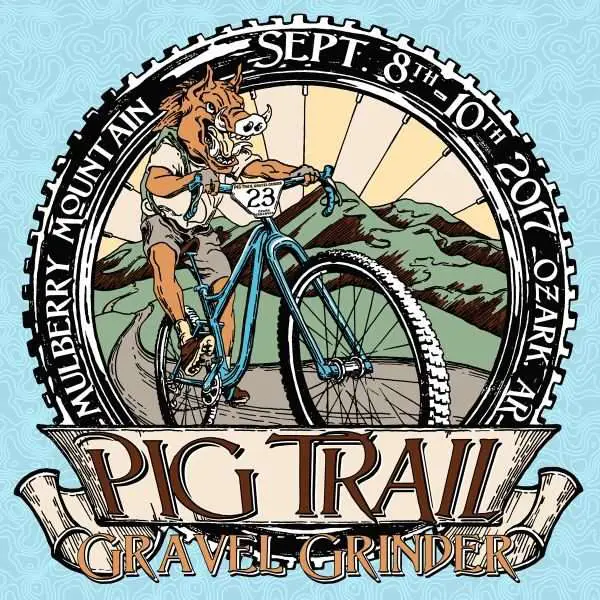 From the Promoter:
The Pig Trail Gravel Grinder at Mulberry Mountain is an exhilarating cycling festival featuring challenging gravel road rides in the Ozark National Forest along with camping, live music performances, vendors, fun outdoor activities, great food and more! Join us this September 8th-10th, 2017 for an extreme biking experience!
RIDE INFORMATION
The ride portion of the eventBikesandCreek_web.jpg will traverse a variety of gravel roads in the highly scenic Arkansas Ozark Mountains and Ozark National Forest. A gravel bike or mountain bike is recommended for this event so choose what you feel gives the best advantage. Each course provides a challenging test of each rider's strength, endurance, and self-sufficiency. All riders are fully responsible for themselves while on the course. It is highly recommended that riders be experienced and have at least one support person present that can rescue them should they need to exit the ride at anytime.
There are three separate ride courses each of a different length. The Whole Hog is the longest and most extreme course covering 72 miles with close to 9,000 feet of elevation gain, The Cob Roller is a slightly milder course coming in around 50 miles with just over 5,000 ft of elevation gain and The Shoat Ride is a shorter, yet still challenging, 22 mile course with over 2,500 ft of elevation gain. Each course is a very scenic ride through remote wilderness areas of the Arkansas Ozark Mountains and Ozark National Forest. For navigation, each ride participant will be provided with a MAP of the course and a downloadable GPX file that can be imported into a GPS, Cycling Computer, or Cycling App. The ride routes will only be lightly marked on the course (common for gravel grinders). There will be an event meeting on the Friday evening before the ride to explain the details of each course. PTGG support riders will accompany each ride as well.
Checkpoints will be located along each ride course. There will be water and other amenities provided at each checkpoint. Riders may receive assistance from their support team at each checkpoint but not at any other location on the course. Ride participants may assist one another at anytime on the course.
FESTIVAL ENTERTAINMENT & ACTIVITIES
In addition to the organized rides, there will be a variety of fun family activities for all ages available right on site at the Mulberry Mountain base camp. Mulberry Mountain is surrounded on all sides by the Ozark National Forest and offers all riders, supporters and spectators a full range of biking and other outdoor recreational opportunities. Even if you don't participate in the scheduled rides you can still bring a bike and enjoy onsite trails and and more. Each event registration includes the following Pig Trail Gravel Grinder entertainment and activities at Mulberry Mountain (children under 14 admitted free).
Camping – Biking Trails – Hiking Trails – Rock Climbing Wall – Fishing Ponds – Disc Golf – Mulberry River Access – & More!