When:
September 3, 2016 @ 06:00 – September 10, 2016 @ 21:00
2016-09-03T06:00:00+09:30
2016-09-10T21:00:00+09:30
Where:
Adelaide SA
Australia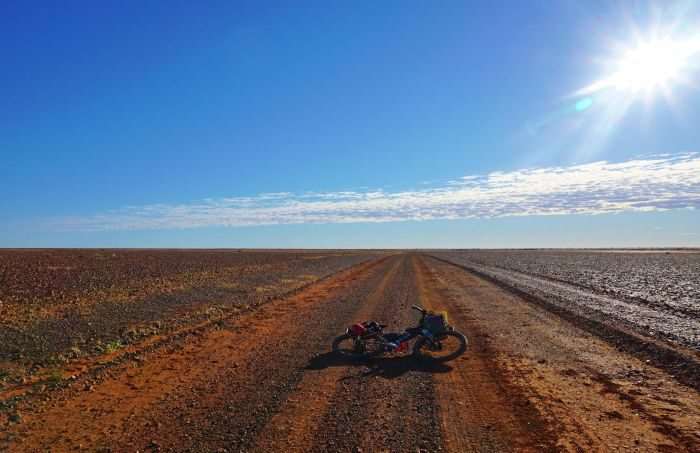 From the Promoter:
Starting 3 September, 2016, I'm going to ride unsupported 2,300 km from Adelaide to The Rock (Uluru known also, for some time, as Ayers Rock) via the Mawson Trail and Oodnadatta Track as fast as I can. You're welcome to ride it too, but you'll also be on your own, and I will do my very best to get to Uluru before you! You'll need to do your own research on the route and decide what equipment, food and water you'll need to carry with you. No one will be out there to help you or hear you scream. Sign up here, and check out who else is on the list:
https://www.curvecycling.com.au/pages/sign-up-2016-race-to-the-rock
The route covers some rugged, remote country in the Australian outback. Different to a lot of bike-packing adventures, this is not a "yeah two bottles will be fine" sort of a ride. The route demands respect, research and some caution. If you're looking for miles of mind-blowing single-track, this is not for you. If you're looking for high mountains, snow and alpine climbs, this is not for you. If you're looking for endless vitamin G, and a taste of the real Australia, then I'll see you in September 2016.
Ride the full route. No drafting. No help that others couldn't also get along the way. If you want to come along on this adventure you'll be expected to play by these three simple rules.
The route will be finalised in April 2016. The indicative route can be found here:
https://ridewithgps.com/routes/12454556
More details here:
https://www.curvecycling.com.au/blogs/news/37059717-race-to-the-rock-bike-packing-adventure-sep-2016