When:
April 4, 2020 @ 08:00 – 16:00
2020-04-04T08:00:00-05:00
2020-04-04T16:00:00-05:00
Where:
Nite Hawk Bar and Grill
105 Greene Street
Slater, IA 50244
USA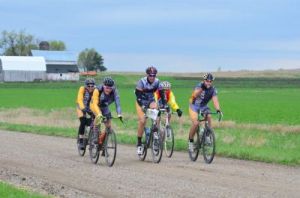 From the Promoter:
Gents Race:
START LOCATION – NITE HAWK BAR AND GRILL.
START TIME – 8AM at NITE HAWK BAR AND GRILL.
FINISH – at NITE HAWK BAR AND GRILL.
CUTOFF – 3PM.
POST-PARTY –  AT NITE HAWK BAR AND GRILL!
What is a Gents Race?
To directly quote the folks at Rapha that started the whole concept (and that we've blatantly stolen it from): "I sold it to the racers as an unsupported, unsanctioned, unmarshalled, five-rider team time trial meets alley-cat, meets "Cannonball Run".
Five teammates (friends), racing for nothing more than pride over the roads surrounding Slater, Iowa. 65 (or so) miles of gravel.
Winners get nothing but pride and high-fives.
No money to enter, no money to win.
It will be fun.