When:
June 26, 2016 @ 08:00 – 14:00
2016-06-26T08:00:00-07:00
2016-06-26T14:00:00-07:00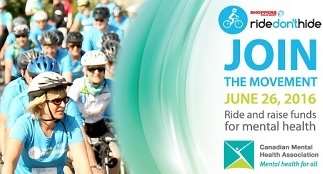 From the Promoter:
Ride Don't Hide is a community bike ride hosted by the Canadian Mental Health Association (CMHA), with the goal to raise awareness and help break the stigma surrounding mental health while raising essential funds to support mental health programs. CMHA rides will be hosted in five provinces in 32 communities with the aim to engage over 8,000 participants and raise $1,500,000.
The community event is a ride, not a race, with routes designed for riders of all ages and abilities—from novice rider to the advanced cyclist. Regardless of distance, you will travel a route supported from start to finish with rest stops, water to fuel the journey, fans to cheer you on, and enjoy a fun day on your bike for a great cause! To find locations and ride details, find a ride in the community nearest you.
Gravel events:
Our 10km, 20km, 60km routes suit riders from all levels. For more information, please visit: https://ridedonthide.com