When:
September 20, 2020 @ 07:00 – 18:00
2020-09-20T07:00:00-05:00
2020-09-20T18:00:00-05:00
Where:
Five Rocks Amphitheater
200701 Co Rd P
Gering, NE 69341
USA

Contact:
Aaron Raines
308-672-3346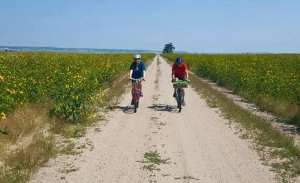 From the Promoter:
For the 2020 Robidoux Quick & Dirty on June 20, three distance options will be available: 25, 65, and 100 miles. Packet pick up will still take place Friday evening in downtown Scottsbluff, and music and beverages will start flowing at Five Rocks Amphitheater right after the first racers make their way across the finish line!
Saturday morning, immediately out of town, we'll cruise along fast gravel roads while the crisp morning air flows over burgeoning corn and bean fields, waking us up if coffee doesn't do the trick. Take a couple turns, however, and we'll be up against a piney, sandstone bluff system that presented the first major geologic obstacle for fur trappers on their way west nearly 200 years ago. They found their way through and the route became so popular that Antoine Robidoux—the race's namesake—set up an aid station of sorts for Oregon Trail travelers in the form of a trading post. The trading post is still located about halfway up the first lung-buster we'll encounter. Stop and take a peak if you're not on the hunt for a podium spot.
Once past Antoine's, immigrants crested the bluffs and likely took a break to admire the view of Wyoming. Unfortunately, their wagons didn't have 40c rubber or disc brakes, so the impending descent wasn't as fun as it will be for us! We'll loop around, climb a couple more passes, rally their corresponding descents, pass some pioneer graves, make animal noises at cows and turkeys (and peacocks if we're lucky), bringing us to our final sprint. We'll spend our last watts on pavement through Mitchell Pass, crossing the same path as later western immigrants. Look to your left or right here and you'll see the ruts their wagon wheels left behind.
Cross the finish line to be greeted by cheering spectators, recovery beverages, and an afternoon of music and camaraderie!