When:
April 13, 2019 @ 09:00 – 19:00
2019-04-13T09:00:00-05:00
2019-04-13T19:00:00-05:00
Where:
801 E Mill St
Kirksville, MO 63501
USA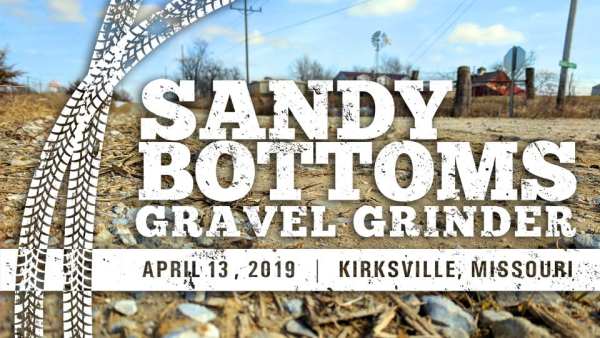 From the Promoter:
Welcome to the second riding of the Sandy Bottoms Gravel Grinder! This ride is sponsored by the Bicycle Advisory Committee at Truman State University and is a partnership with the City of Kirksville, the Kirksville Downtown Improvement Committee, and the Forest Lake Area Trail System. It's also part of our Bike Festival in Kirksville as a lead-in event to the Kirksville Criterium. Thanks for riding with us!
We offer three routes. The first is a 25-mile ride with moderate terrain, ideal for people trying out their first gravel grinder. Those looking for a next level challenge can do our 50-mile ride and take in a bit more of our beautiful county. Finally, we have a 100-mile ride filled with great views and plenty of rigor.
On the 25 mile ride, riders will pass the Troy Mills Country Store in Troy Mills at mile 20. On the 50 and 100 mile rides, riders will pass the Sunshine Country Store in Novinger at mile 9.5. There will be a limited number of water stops along each route and a snack stop on the 100-mile ride. Those locations will be set closer to the date of the event.
In fact, all of our routes require you to be mostly self-reliant. Make sure you're packing plenty of water, snacks, bike supplies, and emergency equipment. You may want to consider having someone you can get a hold of in case you need assistance. It's a gravel grinder, right?
Cost for the event is just $30 (plus a service free from BikeReg). If you are looking for hotel accommodations, Kirksville has many to offer, including a new Holiday Inn Express and a new Hampton Inn.
We will have shirts for those registered by March 25. If we have any extras, we will gladly hand those out to riders registered after March 25.
The ride starts in Kirksville's Rotary Park. After the event, we will try and have some local food, live entertainment, and a festival feel to welcome you back!
Start times for the rides are 9:00 AM for the 100-mile ride, 10:00 AM for the 50-mile ride, and 12:00 noon for the 25 miles ride. The rides will start from Rotary Park located at 801 East Mill Street, Kirksville, Missouri.
Again, thank you for being a part of our Bike Festival in Kirksville and our second Sandy Bottoms Gravel Grinder!