When:
June 10, 2017 @ 08:00 – June 11, 2017 @ 17:00
2017-06-10T08:00:00+01:00
2017-06-11T17:00:00+01:00
Where:
Galloway Forest Park
Creebridge, Newton Stewert DG8 6AJ
UK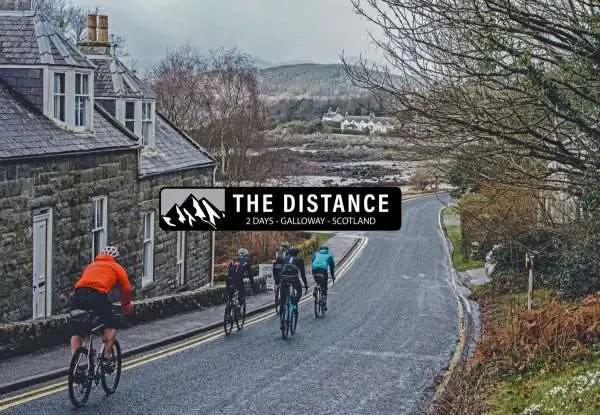 From the Promoter:
Fancy an event where you don't know where you're going, you don't know how far you'll ride, but you know that at the end of it a gin bar awaits? Then 'The Distance' could be the event for you.
Created in partnership by Focal Events, the team behind the sell out Dirty Reiver, and Kinesis UK, this new event will be held on the weekend of June 10/11th 2017, in the Galloway Forest Park, Scotland, UK. This location has been selected due to the presence of suitable trails and the added benefit that the area is a designated dark sky park.
The Distance will require riders to travel a combination of on and off road routes, in a self-supported manner. At each checkpoint, the next section of route will be supplied on printed map and if required, GPX. Riders won't be told which variant they are following but the faster they go the further they will ride. Riders will need to complete a Brevet card along the route and will be encouraged to photograph key points of interest for further proof (if needed) that they have travelled their designated route.
Riders will have to carry sleeping bag and shelter (tent, tarp, bivi) but food will be provided at the overnight stop, so cooking equipment only needs to be carried on the bike if you want something hot during the ride. The catering will provide riders with a hot meal and drinks on Saturday evening (included in entry cost) and breakfast/lunch on Sunday (if required, at rider's expense). There will be hot showers, bike spares available for running repairs and a covered social area with bar and music. Sunday will see a return to the start on gentle, scenic minor roads, past beaches, cafes and a midday ice cream stop, a distance of approximately 40 miles. The organisers have designed The Distance to be a relaxed, sociable experience that caters for a wide range of experience, fitness and abilities.
The format of The Distance is a new concept that builds on the trend in rack-less touring but with a unique twist to help it appeal to as wide a section of riders as possible.
Andy Williamson of Focal Events (a seasoned bikepacker himself) explains:
"The general concept for the event is a non-competitive adventurous challenge, within a sociable weekend of riding. The test of riders will come from trying to complete the full route, and the adventure from not knowing where you'll finish up. Several intermediate checkpoints will guide riders to longer or shorter legs (using time cut-offs), with the aim of all riders arriving at an overnight camp hopefully all within an hour of each other. Some will ride 90+ miles, some 60, but all will arrive to hot food, a comfortable camp and even a Gin bar with an opportunity to relive the day with friends old and new. In short the faster you go the further you have to ride to the overnight"
Bruce Dalton, Kinesis brand manager added:
"If "a challenge is one where the outcome is uncertain", then this is slightly different, because a relatively comfortable, sociable night is the certainty of The Distance . However, an adventure in getting to the end of the day is guaranteed as the route you'll ride will vary with the pace you're travelling at. I've always been a head down racer but now, but the joy of gravel riding challenges like The Distance means that thanks to bigger tyres and increased carrying capacity coupled with the developments of sleeping and bike packing kit means that adventure riding is becoming easier, simpler and lighter. Have bags will travel. When I'm not racing, I love to stop and explore, taste the local food and drink and generally experience the joy of discovery by bike. It's been great to work with Focal Events on a plan and location to make this a reality."
Entry is limited to 150 riders but in the event that there is a sell out the organisers are looking at options to provide more places. In addition to Kinesis UK, support for "The Distance" also comes from other sponsors:
Brooks England are the known leaders in long distance saddle design and have supported cyclists since the 1800's.
Blackburn Sport Design are leaders in rackless bike touring and with their new ranger program will be carrying the event and its riders far and wide.
Crafty Distillery are providing locally distilled gins and spirits to revive and entice riders North to Scotland, to sample the juniper based delights on offer after a long day in the saddle.
WTB have been at the forefront in the development gravel tyres with innovative new tyres including the Nano's, the Horizons and Riddler.