When:
February 15, 2020 @ 07:00 – 16:00
2020-02-15T07:00:00-05:00
2020-02-15T16:00:00-05:00
Where:
18132 SC-72
Clinton, SC 29325
USA

Contact:
Boyd Johnson
864-715-9753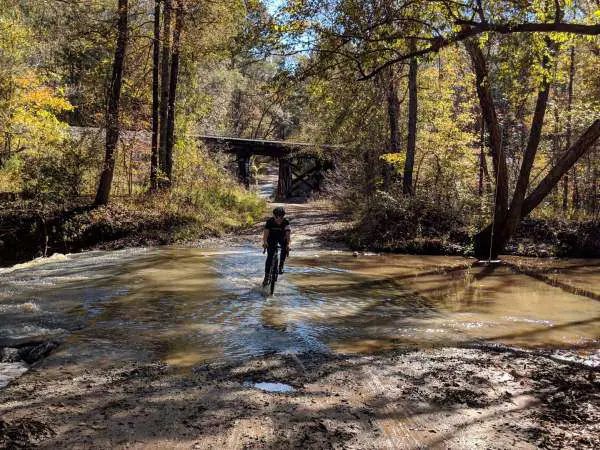 From the Promoter:
Join us on Saturday Feb 15, 2020 for the second Annual Gravel Battle of Sumter Forest. Start time is 9am.
 
Registration link here:
https://www.bikereg.com/sumter-national-forest
 
If you are a current collegiate racer, contact us for a 50% off discount code. We are also offering a 50% off registration for the 18 and under events for men and women.
 
This area is remote. Know the course and have it loaded on a gps device. The course will be marked, but come prepared with enough food/drink for the ride and a way to fix flats.
 
Download the Route
110K route: https://ridewithgps.com/routes/28894359
60K route: https://ridewithgps.com/routes/28894928
Start & Finish
We will have a police escort for the first 2.5 miles to get us out of town. This was to ensure adequate parking for all riders. There is a seven mile ride from the finish line that will not be timed. This mileage is not included on either bike route. This is so we can have the finish in a very remote area after a seven mile section of gravel.
The Course & Tire Recommendations
The course is rolling hills, very low traffic. Approximately 50% of the course is gravel. There is one river crossing, and two super cool tunnel underpasses going under I-26. We recommend 35mm to 40mm tubeless tires for 700c wheels, or 650b x 47. The water crossing is very smooth and a paved surface.
 
This is an event. We will have results, and age group results. However, the rules of the road apply! When you're on a road section, ride single file or two abreast. Ride at your own pace, form groups, and have fun!
 
Parking Info 
Parking is at Clinton High School:
8132 SC-72, Clinton, SC 29325
 
We will have food & drinks at the finish!
 
Camping Nearby
 
Brick House Campground https://www.fs.usda.gov/recarea/scnfs/recarea/?recid=47233
 
Event Updates
 
See pictures from our recon ride here:
https://www.strava.com/clubs/boydcycling