I was a ball of nervous energy starting on Tuesday prior to the Dirty Kanza, which is labeled as the world's premier gravel race, and is the top gravel race in the United States. For those who may be new to gravel cycling, the Dirty Kanza is a serious race. If there were three words to describe my emotions a week they would be; pensive, anxious, and restless. My son came down with a cold about three to four days prior to our departure, so naturally, with him coughing all around the house, I started coming down with whatever he had on Thursday, just two days before DK.
On the positive, these events brought me down a few notches from hyper-anxious, due to the cold. I tend to obsess about any type of ailment with my body, and considering I have been thinking about and training for this race since January, coming down with something right before race day had me more worried than I normally would be.
For a race like this, as a first-timer, you don't want to go through the motions of training hard, only to be taken down by a virus. There is a lot of pressure on the whole, and I'm not a professional athlete. The additional pressure I've applied to myself to perform and finish wasn't helping. My husband Alex, had to take off of work in order to be my SAG (support and gear), and Emporia, Kansas is 418 miles from our home in St. Charles. Race Entry fee is 200.00 dollars, and then there is the cost of the lodging, not to mention the finer details of even finding lodging prior to the event. These are just "entry" logistics. This is not to mention the stress my training placed on my family and in part, my career, leading up to the event.
Dirty Kanza is one of the largest gravel races in the world and the number of registrants this year, in 2018, was 2,500, and the entrants are chosen by "lottery" as stated before. I was told by a friend and fellow athlete before registration day, if you are a woman, you will likely get in.
The DK 200 is for the most serious endurance athletes, which at this point I cannot imagine ever doing, nor would want to go that far with endurance at this point in my life. The DK100 is designed to give you a "sampling" of what the DK 200 is about. The 100 is meant to be a stepping stone to the DK 200. For me, the 100-mile distance was and is still my top end goal.
As I obsessed about how good or bad I would feel on race day, I continued to prepare for the race, pack the car, and get my bike cleaned and ready. I started drinking Apple Cider Vinegar in warm water and honey alternating with Vitamin C emergency powder packs, and loading vitamins on the way to Emporia.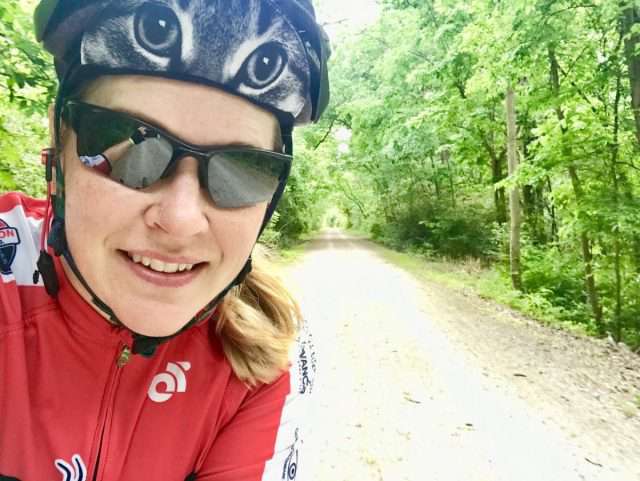 I set my alarm for 4:30am to wake at 4:45am on race day, with race start times being 6:00 a.m. for DK 200 and 6:20 a.m. for DK 100. The very serious people, also staying at the Days Inn were already packed up and leaving with their bikes on their cars. This just goes to show you what a newbie I am. Alex reported on the wind, and I stepped outside to confirm. Yes, the wind was blowing like crazy, which meant a morning storm blew into the area just as we were packing up. The nervous packing continued and it is during these moments you may forget something integral to your survival on the road. It is very important to have yourself packed as well as possible in the days prior to the race. With that said, there has never been a race where I have not forgotten something.
Time flies. Suddenly, only five minutes of car packing time remains before you realize you must eat. Cody Anderson, a fellow cyclist says "big breakfast" – whatever that is. I managed to eat a semi-balanced small meal of leftovers from our journey to Emporia, though it is typical that I feel unwell before races and have a very hard time eating anything prior to any event.
We drove down the main road into the center of Emporia with enough time to spare. Weather conditions were rainy and dark. I turned on my phone and learned that race start times were delayed by 30 minutes. Thank you rain delay, now I was early! Alex and I took the opportunity to walk around and took some video for posting live on Facebook. The crowd in downtown Emporia is the largest I have seen, a big party at 5:45 a.m. Alex took video while friends at home were having their morning coffee and wishing me luck.
My pre-race jitters continued, I was a big nervous ball of energy. Making reference to my packing routine from earlier, I had forgotten my wireless earbuds. Alex was a saint and departed for the hotel to collect them. DK 200 start was 20 minutes earlier than the 100, and all of the 200 racers had their bikes laid out, right in the middle of the street. Racers line up according to an estimated time of finish. I saw Cody Anderson, our youngest team member from Momentum Cycling. He hoped to finish in 12 hours.
The 200's were off, and right away the DK 100 participants lined up, though the 100's seemed much less serious. This is NOT to say there were DK100 racers that weren't serious. A gravel century is a relatively serious no matter how you look at it, in my opinion.
I am a member of a shop racing team named Momentum Cycling, a local team who represents two cycling stores in St. Peters and O'Fallon. When Alex returned from the hotel, he spotted some of my teammates who were also riding the 100. One of the guys told Alex that I should join them at the start. However, they are all faster than me, so starting with them would have been a bad idea for my pacing strategy.
You must race your own race. I am not going to race with people who are much faster than me, potentially burning myself out just to stay with them for the first five or ten miles. I train alone most of the time, riding my own pace, and racing is the same. Essentially, my races become a test of internal fortitude. As a recommendation to anyone reading this article which I cannot emphasize enough – and I am repeating myself here – despite any urges you may have to keep up with a group or rider who is riding at a pace beyond your comfort zone, don't do it. Ride at your own pace and watch out for yourself.
Finally, the countdown and race start which was punctuated by several hundred "beeps" of Garmins and other navigation devices in unison. The rollout was super soft and nice as cowbells rang from people lining the streets. I was nervous and scared, yet confident. I tried to stay in middle to middle back of the pack. It was an easy roll through relatively flat gravel as two lines formed with the roads having tire wear from cars and trucks, whereas the area in the middle of the road is more rugged, rocky and grassy. At this point, as the reader, you have to remember, I had no idea what to expect on the course in terms of terrain or pretty much anything for that matter.
After a few miles, the leaders formed a big gap. I tried to stay with another group that had formed but remembered to stay in my comfort zone – think normal endurance pace. In other words, for an effort such as this, I feel it is important to know your long ride endurance pace and heart rate. Typically, race start will always elevate my heart rate to around the 140's, which is high, due to nerves. To be successful, it is critical to stay mostly within your endurance heart rate zone. You cannot burn yourself out early, especially when you have 60 to 70 miles still to ride. This is the mistake of many endurance newbies, and I'll go so far as to say many male athletes, though I don't mean to stereotype. Riders, regardless of gender, who feel the urge to stay in touch with a group beyond their comfort zone, all in the name of proving themselves, especially from the start, will ultimately falter.
Moving on, the weather during the early miles was perfect and the rain helped to lower temperatures. The sun was low in the sky – and the hills began. I tried to keep a line of riders in sight who were somewhere in the middle of the DK 100 throng. We rode on remote, beautifully unspoiled hilly roads amidst a grassy green landscape. The scene was breathtaking, something I have not experienced before, even though I am from the Midwest.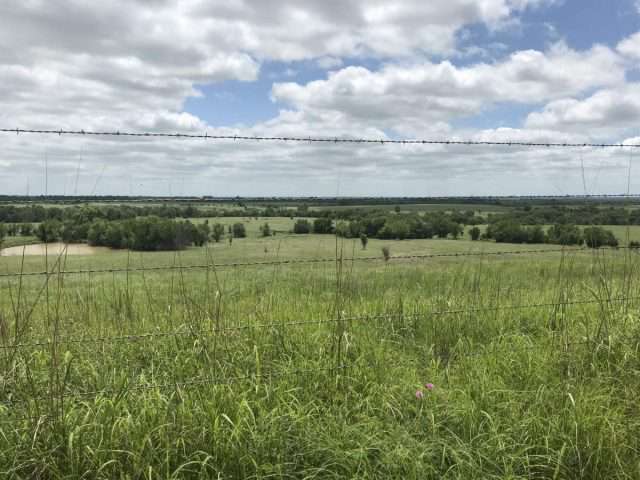 I would say around mile 15 (maybe 20), I observed something very specific to the perspective of a woman. The male riders could pull over to the side of the road and urinate on the prairie. Sometimes, it was like they all had to "go" at the same time. There weren't many trees, and riders etiquette, of course, is that you look forward, and roll on. Shortly after these observations, I began thinking about when or where I would "do some business". Being a female rider mostly riding solo, I wasn't about to pull over in a vast and open pasture.
The good news here is should you feel the urge to "do business", this indicates you are hydrated. Around mile 20 – 25, the urge came meaning I should begin looking for some kind of cover. Luckily, there was a bend in the road with a huge tree around mile 26. It provided the perfect (seriously, the perfect nook) place to "do business". Feeling better almost immediately, I remounted the bike and pressed on. I was riding well and surrounded by plenty of riders going through various motions – pulling over for this or that (eating, re-grouping, so on).
I had worked on my nutrition intensely on endurance rides prior to this race, and my basic general rule was to pop something in my mouth every 45 minutes. I should have set a timer because it is difficult to count those minutes as you are working hard on hilly, foreign terrain. It is also hard to find moments to pop food in your mouth when you are riding. Everyone who races has a different method for their nutrition intake, and when people find out that I have ridden some long gravel races, the question I am most frequently asked is "What do you eat?"
Bio
Jennifer Klemp is an Artist and Entrepreneur who loves being outside and active. Cycling is her preferred form of exercise along with yoga and swimming. She believes new adventures and staying active are keys to longevity in life. She lives in a small historic town called St. Charles in the Midwest with her husband Alex, her two boys (ages 8 and 10) and two dogs.
https://www.instagram.com/bellacornicello