Riding what is possibly the longest straight road in middle America, some locals were handing out water to passing riders. As a competitor at Dirty Kanza, sometimes you will encounter locals who spectate from their front lawns to pass out drinks, food, pickle juice and so on. I gladly accepted their generosity and refilled my CamelBak. Several cyclists had gathered at this stop and chatted about circumstances. One of the locals atop a four-wheeler offered me a Miller beer. I accepted the beer offering and said, "I don't think it can hurt at this point, I'll probably burn it off in these calories in about five minutes". I further rationalized my choice. My dad always sang the praises of a beer after a race thanks to the goodness of carbohydrates.
One of the guys asked me, "Do you regret it?" Still keeping my humor, I replied, "do you mean do I regret doing this race?, or do I regret having this beer?" He replied, "Yeah, I mean, you could just sit here and enjoy that beer." It is with this question, that clarity came.
It would be so easy to sit down. I really wanted to, yet I came to Emporia and DK100 with intention and purpose, and with that, I told him, "I'm not going to regret it at the finish line.' There was no stopping now, being so close to the end.
I made a point in my mind to look forward to, and that was mile 85. If I could break my training threshold of 80 miles, I could make it the rest of the way. Just 15 miles would remain from the goal.
I trudged towards mile 85, and I do mean trudge. There was a huge truck parked on the side of the road, laden with equipment. I stopped to take a photo, and post to social media, in order to give Alex a better idea of my arrival time. A little support from the ether of the internet couldn't hurt either. Around this time, I encountered another woman in the race, deep in the midst of her own struggle. We rode together for a short period. For both of us, only "death or a mechanical issue" could end our day. I was so grateful for the bike I had, my Surly Straggler. I passed a few men who were riding slower than me or walking their bike. One said "I'd be a lot better if I were home", and another, "I just don't have any more energy". Yet, the latter was still riding, which is difficult to fathom. I couldn't believe I was still riding and took a moment to look down at my bike. I secretly said to her, "I cannot believe we are still in this, I'm grateful to be feeling better than those riders we just passed". Both looked very sad and defeated.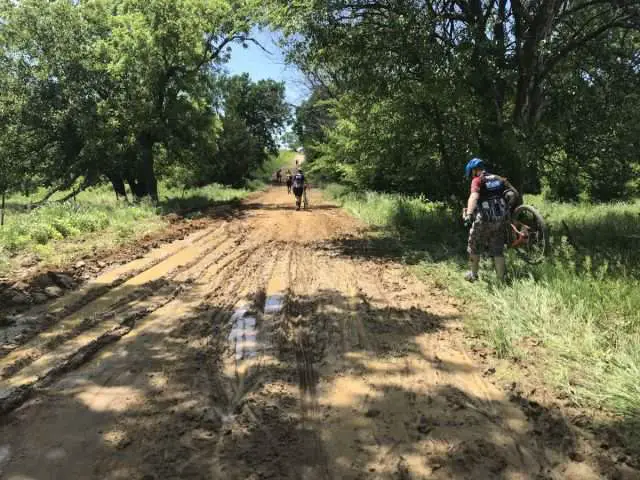 The final 15 miles were brutal. My knees were especially sore, even though I had taken a dose of Duexis at the checkpoint. Duexis is Ibuprofen with Famotidine. I continued to eat and drink, but I was so sick of my nutrition. I rode alone, or on and off with a gent relegated to riding a single speed bike, because his rear derailleur had been torn off somewhere in the mud. I later learned I was riding faster along this stretch than I imagined in my mind. Dirty Kanza, no matter the distance, is tough on everything. My clipless pedals were tight, which is how I like them, but the earlier mud had made them difficult to release from. Somewhere along the way, I stopped briefly to adjust their release tension. Sadly, only one would actually release, the other had my shoe firmly stuck to it. Looking back, I can laugh a little about some of these experiences.
Just one hill of real note remained, and it was right at the very end, adjacent to Emporia State University. At least now we were riding on the pavement and the finish was so close. Some riders walked, our hill legs had left us, there was no shame. This is how it went for many of the hills towards the end of the race. Walk a bit, ride a bit, always forward motion.
As we turned into the Emporia State University campus, I had a few riders for company. We joked about weaving our way through campus, which was a little confusing at times. After riding through E.S.U., you cross a street which leads to a long line of cones that safely guide you through to the finish… finally, the finish line! It was going to happen! I enjoyed the moment, riding an easy pace, taking in the energy of the supportive crowds, clanking bells and cheering every finisher on as they rode towards the line. Such relief and a sense of accomplishment. The organizers placed the finisher's lanyard around my neck. Alex was there, so proud of me.
Some of my Momentum teammates were nearby, resting under a tent. Our experiences varied. One member in particular, had fallen very ill and was unable to finish the event with just one mile to ride. He was laid up in the medical tent. I cannot imagine how he must have felt. As I visited with the  Momentum teammates, I was a state of disorientation that one sometimes experiences after a long race. Dirty Kanza 100 had taken me a very long time, eleven hours and eighteen minutes to be exact. For reference, the top two finishers of the Dirty Kanza 200 passed me during my final miles. Those who completed the race in 2018 said the conditions were terrible, yet I didn't know what to expect as this was my first Dirty Kanza of any kind. It was all a learning experience, right down to the salt that sweated from my pores and now caked my face. It was quite the sight!
Post-race, we headed to Radius Brewery. I was very hungry and happy. I washed the salt from my face in the restroom and was terribly dirty everywhere else, but didn't care in the slightest. We traded race stories with two DK 100 riders eating at the bar. They had driven from Wisconsin for the race and experienced their own set of issues. Sadly, a broken derailleur ended the day for one of these guys at mile 67. Everyone has a story from Dirty Kanza.
Surprisingly, I felt pretty good all things considered. The food at Radius was the icing on the cake. I felt better than I ever have after any race, which was ironic since this was my longest race to date. I have finished many races (before I found gravel racing) and often suffer from terrible migraines, sometimes for 24- 48 hours after the race. My endurance training rides for Dirty Kanza usually wiped me out for the rest of the evening. I like to think that eating consistently was a factor, and being organized and consistent with my training. By no means was I a top finisher, but I was proud to be among a finishing field consisting of 69% men and 31% women.
Since my first Dirty Kanza, I have had time to reflect on everything regarding that day, and the training leading up to it. For me, the bigger question is the "why" of endurance training, when endurance is very hard and time-consuming. For this gravel grinder newbie, my interest lies in setting new goals with fitness and proving fitness to myself in an environment of exploration, adventure, and challenge. Moreover, it is about searching within the depths of oneself, to see how far one can go mentally with grace. My ultimate hope is to help others on the minor yet important details that would be helpful and inspiring to those who are interested, yet daunted by the world of gravel racing.
Bio
Jennifer Klemp is an Artist and Entrepreneur who loves being outside and active. Cycling is her preferred form of exercise along with yoga and swimming. She believes new adventures and staying active are keys to longevity in life. She lives in a small historic town called St. Charles in the Midwest with her husband Alex, her two boys (ages 8 and 10) and two dogs.
https://www.instagram.com/bellacornicello