For my first Dirty Kanza 100, I had a CamelBak hydration pack which holds 70 ounces. Loaded with four scoops of Tailwind Nutrition, I drank constantly and consistently from the CamelBak. I also popped food into my mouth every 45 minutes. The food was a mix of turkey jerky, dried apricots, GU brand gel, and salt tabs. I had wafers and Scratch brand chews as well but never used them. As I was busy focusing on riding, the easiest solution was to grab a combination of a salt tab, an apricot, and a piece of jerky, and eat them at once. I made myself eat. It was less than pleasant to eat those combined foodstuffs at once, but you have to think of food as a survival strategy.
I contacted Alex and told him at my current pace, I should be arriving at the checkpoint earlier than anticipated. I was thrilled and excited that my pace was good, yet in my mind, I knew that things could change at any mile. There was a woman who I kept catching and losing from around mile 20 to 47. She was on a fat bike, which I later found out was a Surly (the same brand of bike as mine), wearing sandals ON REGULAR PEDALS. I couldn't believe it.
We began chatting and noted a few people were already having mechanical issues. I spotted one guy with a huge split in his tire, walking up the road. Where was he going, we wondered? She said something to the effect of "well, we don't have to worry about that" (which is a reference to the stability of the Surly brand) and I remember thinking "I hope so". Her name was Jennifer as well, so we were akin to Surly sisters with the same name.
We talked a little as we drew closer to the halfway checkpoint and our support crews. For both of us, our husbands were supporting, and for my new friend from Leavenworth, her husband was a bike mechanic. The checkpoint is something that you really look forward to. Support crews are assigned different colors for parking and areas are marked with colored flags. Jennifer and I were both in the red section. As we rolled in, I hoped we would leave the checkpoint together as we seemed to be riding the same pace.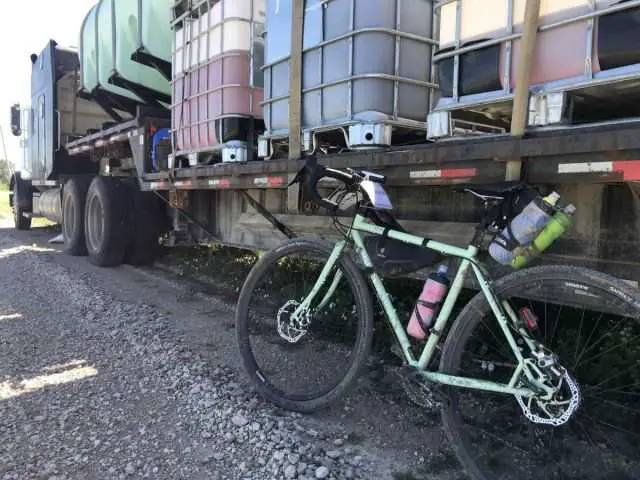 It is a weird feeling knowing that every gravel race I'd finished to this point had been 50 miles in length; at DK100, I am only halfway. I wondered how on earth I could finish the next 48 (the race was a total of 98 miles rather than an even 100). When Jen and I talked she said she was looking forward to her mid-ride taco meal, and making the checkpoint before the cut-off. After the checkpoint, she felt she could ride as easy as she liked. I felt the same way. We rode into the checkpoint where I found Alex, located in the very last parking spot at the end of the red section. Alex was taken off guard by my early arrival, a good problem to have, but he didn't have everything situated as he would have liked. He got down to the business of cleaning my bike as I ate three to four slices of watermelon, while I headed over to the Porta Potties. That business concluded, I continued the fine dining with half a chicken sandwich, and pickle juice consumed straight from the jar. Some additional pickle juice found its way into my CamelBak.
Alex replaced my old water bottles with a bottle of root beer, a bottle filled with two scoops of Tailwind, and one with plain water. I toweled myself with icy water, although at that point, I didn't feel it was quite that hot. I stretched on my back on a blanket, spinal twist, which many cyclists wouldn't contemplate – but for me, so much time in one position crunched up on a bike, needs a compensation at least for a minute or two.
I hurried to get riding again, yet I was sad. This is the feeling one gets when leaving to tackle another enormous distance, sort of like you are leaving home. It's like home was just there, and you could just stay home, yet you need to go. You ask yourself why you need to go out there again when you have done so much already. No one is making you ride this race and I witnessed several people calling it a day. I heard people in the periphery as I rolled out of checkpoint saying things like "Well, I'm having a lot of cramping", or "I think I'm going to call it a day'.  Alex estimated I would spend 15 minutes at the checkpoint, though in reality, it may have been more. I rode slowly as I headed out, yet I can't say how slow I was – I was barely riding, just making the pedals move. My friend Jen had already headed out. Bummer, I had missed her.
My thoughts again turned to how I could possibly ride another 48 miles. This section of the ride from mile 50 to 85 was blurry. I tried to remember what I ate around the four-hour mark at the checkpoint, so I could continue my regimen of eating every 45 minutes. Listening to a podcast may help, but that didn't work out. The volume was too low or it would cut out. I switched back to music.
At this point, it seemed I was riding with a small group of stragglers. The heat got worse. The hills kept going and going, and in these lower points of the terrain, there was mud. I took those muddy areas prudently, getting off my bike and walking where necessary. Many of the hilly areas were rockier, with large stones set into the ground which made for rugged terrain, unlike the preferred crushed gravel we had experienced in those beautiful hours of the morning.
Each little hill became a little harder to ride over. Lots of people, including myself, walked many of them. I noticed one guy muscle up one of the harder hills. He was grunting and pushing up a hill, at his maximum effort. I thought, "that's not good at this point in the game, to be giving it your all".  When I walked my bike, two things happened. One, it gave my body and legs a bit of a rest. Second, if I could walk faster uphill than I could ride, I was better off anyway! I was using different muscles, thus giving my legs and sore parts on the saddle a break too. My walking pace was brisk, which helped to keep my heart rate elevated.
People were resting on the side of the road. I'd roll by and ask, "is everything okay?" Their response, "just resting." I'd keep on, praying to stay in the game. During this hazy period, I saw at least six people collected by their support crews. These were just the riders I happened upon, I cannot imagine how many more abandoned their race at different parts of the course. So many people had derailleur issues, and I remember thinking "why… why all of these derailleur issues?" "How are they riding, what if my derailleur has an issue? " You may be laughing, but I thought, I really need to research why I don't have that many derailleur issues or why I haven't so far. I made a mental note to speak with Gaby, the best bike mechanic at my local shop.
As soon as these hills end, I will be okay. My knees were feeling sore in their joints, a sensation that isn't new at my age. Endless rolling hills had not comprised the majority of my training. The flat Katy Trail, one-half mile from my home, was where I rode at least 70 percent of my training miles. The good news is, once on a flatter road that resembles anything "like" the Katy, my legs come back! It's as if they were saying, "we are home".
Near the crest of one of the last roller hills, I spotted a few trucks, I think this was somewhere around the 70-mile mark. One was plastered with "BUDWEISER" logos, which made even more sense because the van was red in color. I contemplated having a beer, and thought, "you know what? I think I will." When I reached the top of that roller hill, the van's logos now read "SALSA", as in Salsa Brand Cycles. It was a mirage! According to the Salsa staff on-hand, I wasn't the only one who had mistaken their van for a Budweiser truck! The mind plays tricks when one is fatigued.
The hills did not give way to a likeness of the Katy Trail, rather, they gave way to flat roads with extreme winds. I am not experienced enough to know the details on wind measurements. I know what is a headwind, what is a tailwind, and what is a crosswind. This brings to question, "does one need to know the wind speed?" In my mind, no, knowing wind speed is useful only when you are boasting about how bad the wind speed is to your cyclist friends. What I can tell you is this; the wind was a bitch, and hard as $hit to ride into. My pedaling efforts felt they would never get me through it all. No matter the wind speed, I had to conquer the wind to finish the race.
At this point, I was among a small band of riders still hanging in together. At times, the gaps widened between riders. Some would pull over and rest in a shady area as a group. One group of women pulled en-masse into a yard with dogs playing, as the family who lived there watched on from their porch.  The thought of joining them crossed my mind, but I decided against it. Instead, I went to the roadside "bathroom", although this time it wasn't in the luxury of a bend in the road behind a tree. Imagine a bushy area (pardon the pun), located right next to the gravel road. This visit was not executed as eloquently as mile 26, but when everything is sticky and hot, you cannot expect your best work!
This band of riders and I were riding back and forth for a while, and I caught my Surly friend from earlier, Jennifer. We chatted some more until I got ahead of her. Her pace was now slower than mine, despite this being my new slower than before pace. I had hoped we could finish together, but you have to ride your own tempo.
Riding what is possibly the longest straight road in middle America, some locals were handing out water to passing riders. As a competitor at Dirty Kanza, sometimes you will encounter locals who spectate from their front lawns to pass out drinks, food, pickle juice and so on. I gladly accepted their generosity and refilled my CamelBak. Several cyclists had gathered at this stop and chatted about circumstances. One of the locals atop a four-wheeler offered me a Miller beer. I accepted the beer offering and said, "I don't think it can hurt at this point, I'll probably burn it off in these calories in about five minutes". I further rationalized my choice. My dad always sang the praises of a beer after a race thanks to the goodness of carbohydrates.
Continued in Part Three.
Bio
Jennifer Klemp is an Artist and Entrepreneur who loves being outside and active. Cycling is her preferred form of exercise along with yoga and swimming. She believes new adventures and staying active are keys to longevity in life. She lives in a small historic town called St. Charles in the Midwest with her husband Alex, her two boys (ages 8 and 10) and two dogs.
https://www.instagram.com/bellacornicello