Fellow gravel grinders, why do you ride gravel?  There is no simple answer I am sure. We get away from the city and the burbs and their distracted drives. The views are compelling and you don't know what to expect. Not knowing is part of the adventure. Gravel adds that extra challenge, especially when attempting a fast pace. And the hills. You crest a hill and start upshifting to gain speed, wondering if fast is going to be too fast. You upshift through all the gears and get rolling really fast, standing up on the pedals to get that extra stability. And then you hang on. Yep, 35+ MPH on gravel is thrilling. You watch for obstacles or deep gravel, feathering the brakes if needed. Then the uphill starts and speed bleeds off. As it does, you start madly upshifting through all the gears until you are in the lowest gear. (Why isn't there just one more gear?) You climb and hang in there.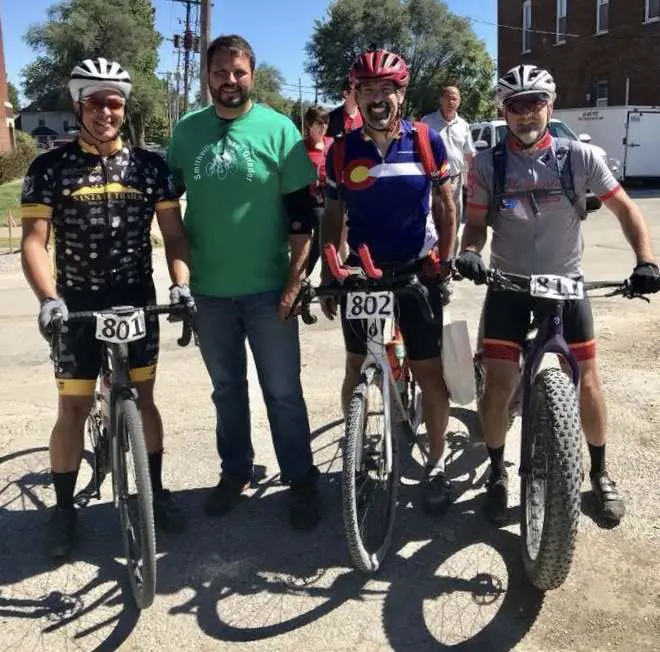 Another possible answer is the 2018 Smithville Gravel Grinder. It was the perfect day for gravel grinding around a small town in northwestern Missouri. Wonderful gravel roads stretched out through vast corn fields ready for harvest. We passed by a free-range pig farm where incredibly cute piglets ran along the fence. How many races can offer that? The course had Missouri hills that just won't quit. September 22, was a quintessential Fall day. It was clear, temps started at 50F and climbed into the mid-70s and it the breeze was light. About forty competitors signed up for the 50-mile and eight souls signed up for the 80-mile. According to my Garmin Edge, total climb for the 80-miler was 5,771′. Thanks to Smithville and Let's Ride Bicycles, Smithville Parks and Rec, Smithville Bike Co-op and Gravel Warfare for hosting such an excellent race. And a huge shout out to all the volunteers, including the kids in the center of Plattsburg handing out donuts and pretzels.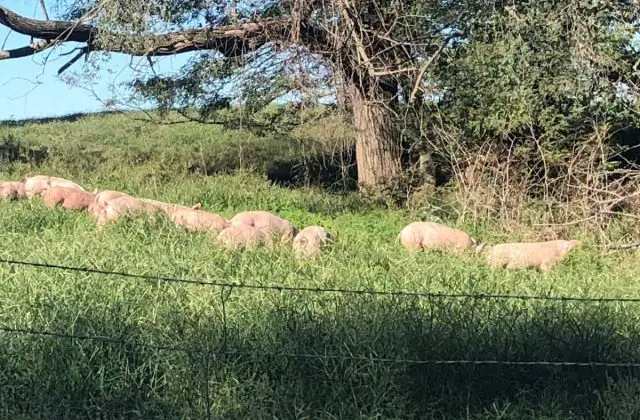 Here's how my day began. As I chatted with another competitor at the starting line, I thought about the front tire I had just put on the day before. Would it hold? Would I have to pump it up? I looked down and noticed I did not have my pump, so I rode to my vehicle. I got my pump and rode back to the center of town to discover the race had already started. Laugh it up Gravel Cyclist readers. I could barely see a sweep vehicle way up ahead. Rather than easing into a gentle pace to start the 80-mile race, I found myself chasing the tail end of the field as quickly as I could without going out too hard. As I chased those dim tail lights, I told myself, "Don't blow the race right here." Comically, my Garmin Edge was accidentally in the take me to the start of the race mode, so I couldn't rely on that for help. After several minutes, I arrived at a key intersection where a police escort was still blocking traffic on a county highway. Thank you to the police, and to volunteer motorcyclists present at crossings in the first 10 miles.
I caught the rear of the field and started passing chatty gravel cyclists on this chilly morning. I felt good and I was starting to warm up. However, my bike's shifting was misbehaving today and generally not making sense. Rather than the rapid fire super-solid shifting of Shimano 105 I am used to, I shift and wait. (I maintain my own rig and have a routine of cleaning all the pivot points, using compressed air to clean out grit. It works like a champ.) But something is clearly wrong today. My rear derailleur is shifting like honey coming off a spoon. My mind clicks through the possible reasons. Is it the cold weather, making the lubricant too viscous? Did that heavy door shut on my derailleur, knocking it out of alignment? Some shifts are OK, but some occur unexpectedly after 5-10 seconds. There are things you can control and things you can't. Realizing that my bike is going to shift poorly, I adapt my riding to the vague shifting and don't dwell on it. I settle in and start passing some slower competitors.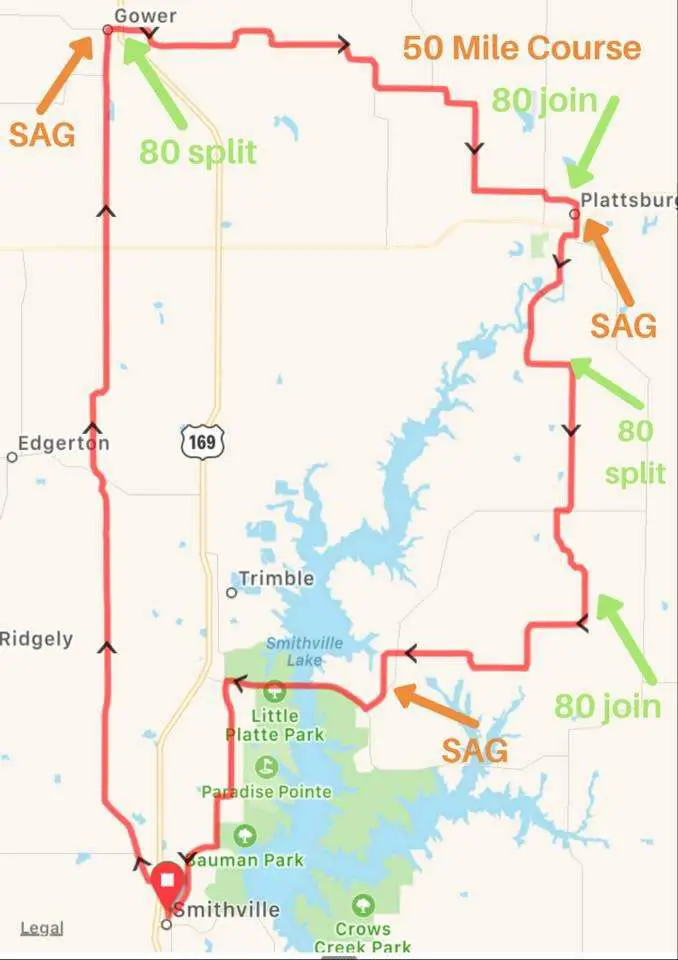 My Garmin is still not set up properly and there are a lot of turns. I catch up to a group of riders that are fast and seem to know where they are going. However, when these riders pull into the first checkpoint, they don't appear to be in any hurry to leave. So, I head off on my own. I am able to get my Garmin into a map mode and leave it there. Usually, I want speed, cadence and heart rate, but today I just want to know where to turn. I am not getting turn by turn directions, but it's usually OK. At one point, there was a crossroads where all directions were on the course. I had to try all three possibilities before I found the correct one. This is when I noticed two cyclists up ahead. It was Tye Bragg, who laid out the course, and Ryan Rube. They were better climbers than me. I tried to close the gap on the downhills, but it wasn't enough. Ryan was on a fat tire bike. This dude is a climbing machine. I have no idea how he climbed so well on those fluffy tires. He had no high gearing but he still had good speed downhill. I learned something about my riding, trying to catch Tye and Ryan. After about 30 miles when I crest a hill, I like to stand up in the pedals and stretch out my legs and give my butt a rest. I realized that I was losing too much time doing that. To catch Tye and Ryan I had to power over the top without letting up to accelerate without delay.
The course had some asphalt out of necessity, but it traversed a lot of beautiful farmland. It was harvest time and as we were riding the harvest was in full swing. Combines were chewing through the corn stalks and extracting the grain. You could hear the grain being loaded into grain elevators on the farms. I hope the farmers have a good despite the severe drought that hit this part of the country. As I climbed a hill adjoining one field being harvested, I waved to a pilot flying above. He tipped the wings of his single-engine plane and gave me the thrill of passing low overhead. After that I rounded the corner I saw one of my favorite sites. It was a windmill. Not those huge, white windmills that generate electricity, rather one that operates a well to draw water for cattle. I don't care if it is a race – you have to stop and take photos!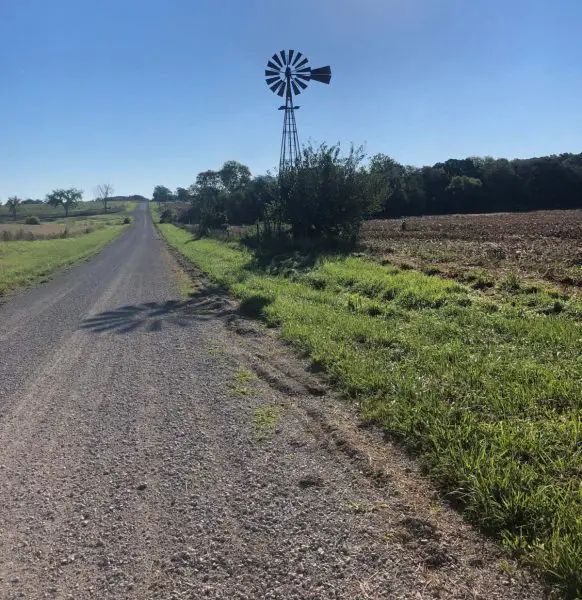 As I mentioned, there were about 40 competitors in the 50-mile option and 8 in the 80-mile option. Why so few competitors? Some local and regional competitors were at the Bleeding Kansas Gravelduro in Manhattan, Kansas, the Meatball Cross, mountain bike events, a women's Dirty Kanza clinic. That said, several quite quick competitors rode in the Smithville 50-mile gravel grind. The top three finishers in the 50 were from Santa Fe Bicycle and Coffee Shop in Leavenworth, Kansas. The first finishers came about 2:51. (This race was not a timed event.) First place finisher Carl Fischer told Race Director Damien he loved the course and complimented him on very quick responses. David Collins claimed first place in the 80-mile for team Chamois Butt'r, which is a local company. (Thanks to Chamois Butt'r for letting the race borrow some tents and providing some product samples.)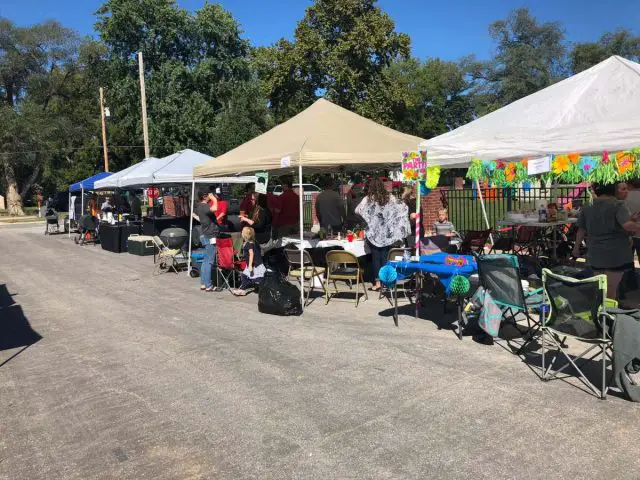 Smithville resident Nan Leuckert from Team Epic Bike and Sport was the first and only woman to finish the 80. Personally, it was a good day. I hoped to come in under 6 hours for the 83 miles. I hit the 41-mile mark at 3:10, so my hope of finishing under 6 hours didn't seem possible. However, I completed the course in just under 6 hours. Tye, Ryan and I rode the last 15 miles together, cruising along at a good clip. When we reached the finish line, which was a stop sign at the center of town, we were greeted by the Race Director Damien, who is a fellow cyclist. Nearing the finish line, I was tempted to whip around Tye and Rye and beat them to the finish, but thought that would be a "jerky" thing to do. It was a good idea I didn't because I received a plaque for being the last competitor to finish. It says "The Adventure is Out There," which is so true. I also got my first top-10 finish. Yeah, there were only 8 competitors, but I'll still take it. Damien and course architect Tye wanted a course that was fun and safe. There were no DNFs and no reported injuries.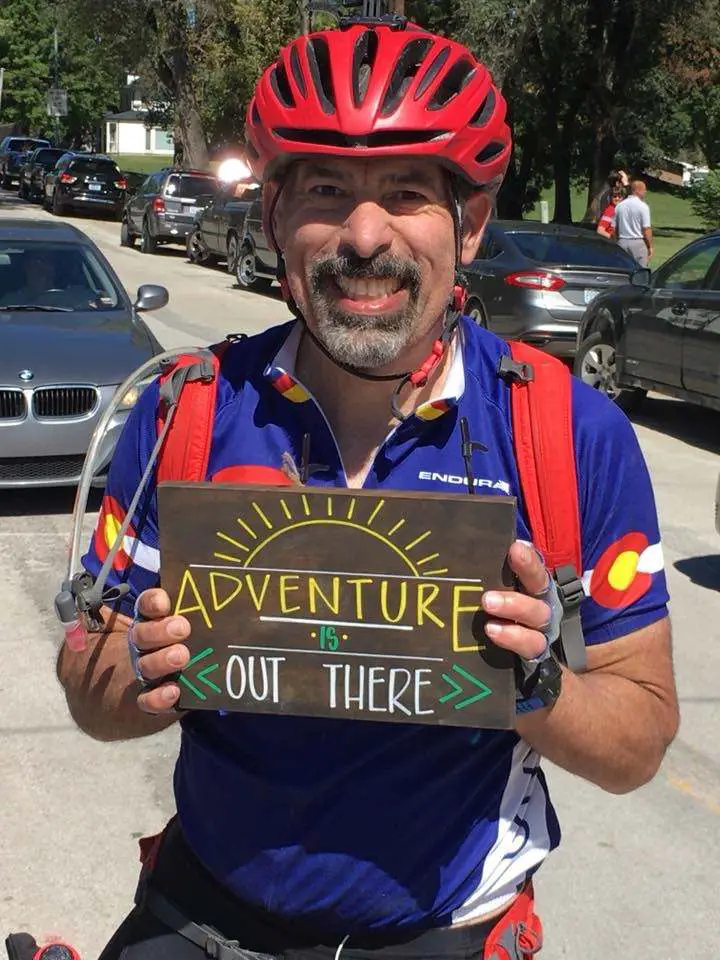 Damien also happens to be mayor of Smithville. He scheduled the race to coincide with the town's annual amateur BBQ competition in order to promote Smithville. The town got to show off how nice the people are and competitors got a free meal of pulled pork from local restaurant Chops or a burger from Kennedy's. Very nice! Damien said he had a lot of help, including from Matt Burris from Gravel Warfare and from his wife Tiffany of Dark Early.
Races like the Smithville Gravel Grinder bring riders and our wallets to little communities. Smithville is hoping that some of us will see the possibilities of a rural lifestyle along with a good quality of life and consider living there, or retiring there. Under Mayor Boley, Smithville is rebuilding some of its infrastructure including laying out safer bike-friendly streets with wider and safer sidewalks. He wants the area to have safe shoulders for cyclists and if I heard him correctly, he has a vision for a dedicated bike path to nearby Lake Smithville. Damien and the Smithville Bike Co-op are already hosting more gravel races in the area next year, including the Humphrey's 100 Gravel Grinder. Stay tuned to Gravel Cyclist and Smithville Bike Co-op for more info.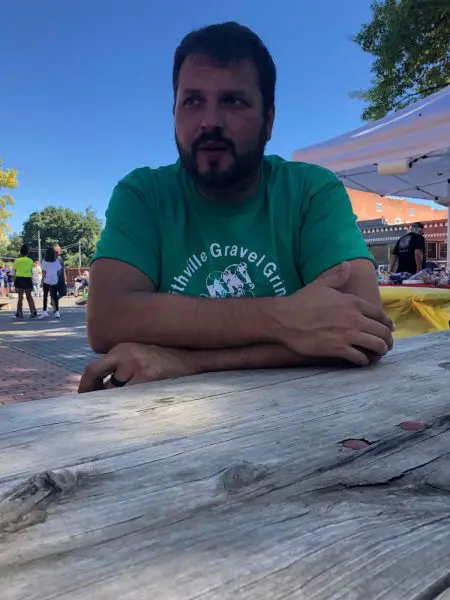 P.S. A few days after the race, I realized why my rear derailleur was shifting so slowly. Feel free to take your best guess in the comments section. Hint #1, it was one of the last things I did to the bike before the race. Hint #2, it was unrelated to the bike pump.
Gravel rules. Ride safely.