"The Rock Cobbler; an all-day kick in the guts Odyssey on the bike. In the words of Joker from Full Metal Jacket, 'for the crazy tough and phony brave'. Why do we choose to do these kinds of things? Not because it is easy, BUT because it is hard. And this ride is damn hard, for everyone from the tip of the spear to the red lantern holders at the back" – Marc Duncan, five-time finisher.
This race has been made infamous by its tough nature and insane antics. Where else can you ride your bike through the interior of a functioning house?! In earlier editions, navigating a tyre obstacle course, or being commanded to drop and do 10 pushups by a bloke dressed as a Drill Sergeant have been par for the course.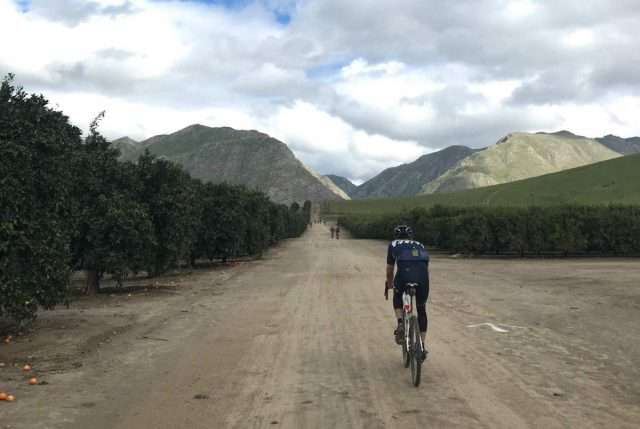 The 2019 edition saw some funny business as usual, but the ride's challenge factor was enhanced by the rainy spell Southern California has experienced recently. See this video from the 2019 Gravel Camp in Calabasas for an example of what I'm talking about. On tap for 2019 was the 85 mile / 136Km Cobbler with 6,000 feet of elevation gain, or the slightly tamer "Pebbler", 60 miles / 96kms with 3,000 feet of elevation.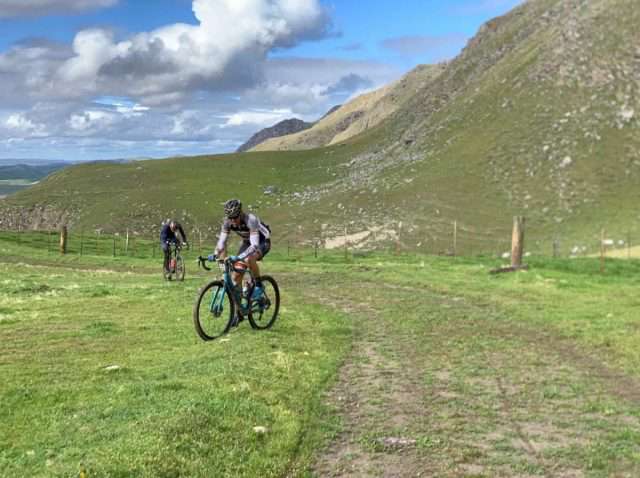 The photos directly above and below were taken by Ryan Steers of DZNuthouse and illustrate his riding partners, undoubtedly some pretty strong lads, reduced to creeping along and walking the renowned hike-a-bike areas that this ride is also known for.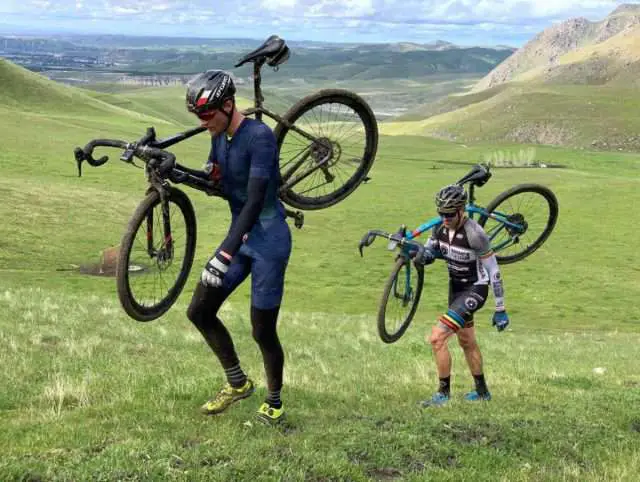 In the photo below, you can amply see how sticky the Orchard section of the course was. Ryan dubbed this year's edition the "Mud Cobbler" on his Strava workout.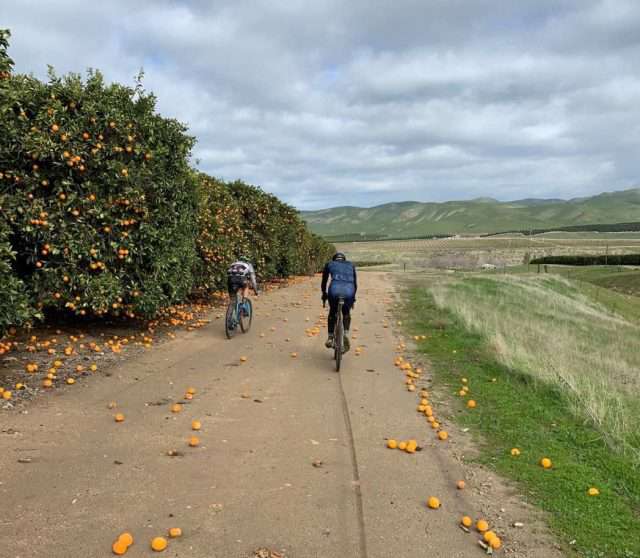 How the Rock Cobbler Came to Be
"Many, many years ago, long before what many call gravel, I loved riding cross bikes "adventure style". I rode over mountains, in races, hiked, thru mud, across ice, rivers and anything I could find. A few of my buddies joined me from time to time. We converted road bikes to cantilever brake, off-road non-mountain bike machines." – Sam Ames self-appointed Head Cobbler aka Founder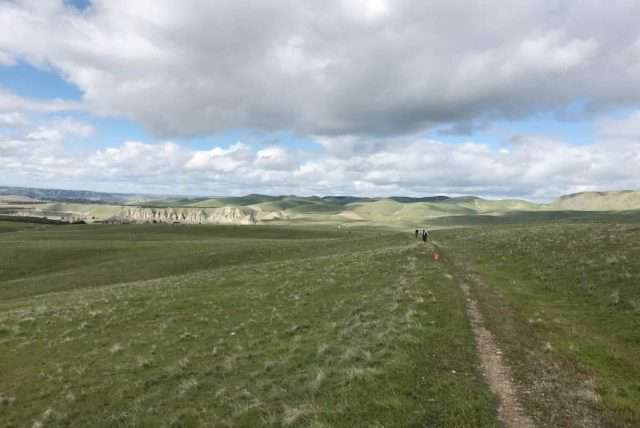 "We broke, crashed and destroyed several frames. And loved every minute of it. I continued to do all sorts of 'free road' rides on my cross bike… some on my road bike. Along came gravel riding: BWR, The Crusher, Dirty Kanza. Some organized, some just a gathering of friends. I told my buddies, let's do an 'event'. Beers were poured; hours were spent contemplating the idea."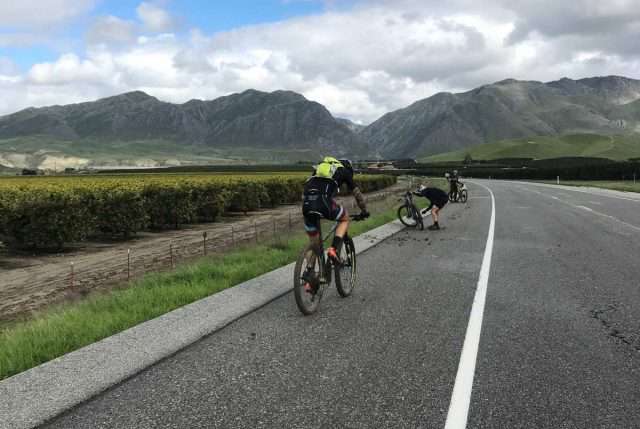 "We toiled on a route. What, where, how and why? In three short weeks in 2014 the Cobbler was born. We had no marketing, just a vision. The ship was launched and we were blown away with 50 riders."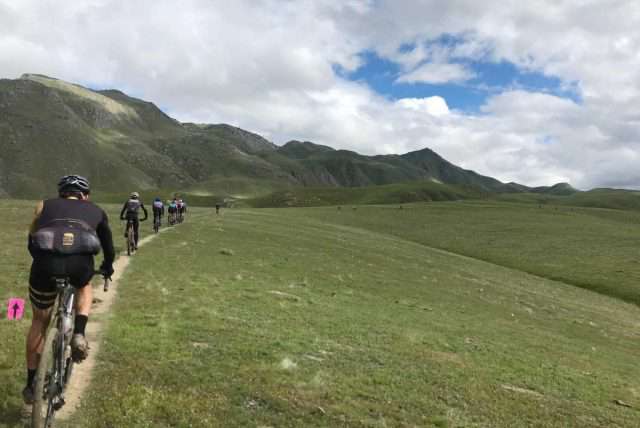 "We celebrate this 6.0 instalment of The Rock Cobbler with you. It is my sincere hope we deliver a down-home banger event, complete with uniqueness, goofiness, a damn challenging route with awesome unique features, fun, some pain and trails that you will fondly remember in the weeks to come. We thank you for the support."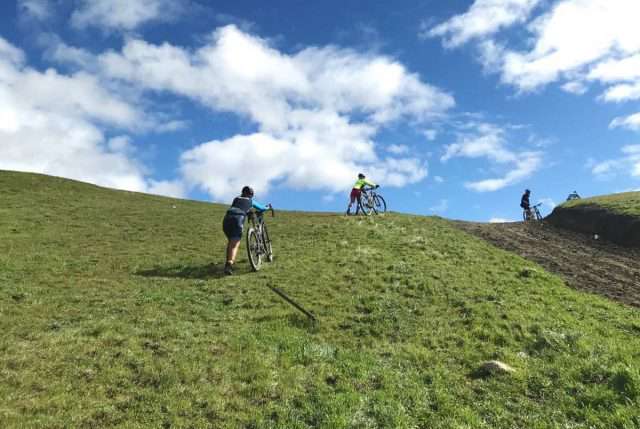 "As much of a race as you want it to be and as much of a ride as you want it to be. But ALWAYS an event. Having fun is a must. We celebrate riding in a unique way that I hope NEVER goes out of style. Now, go ride and thanks again for coming to the Cobbler! (and the Pebbler!)"
Some of these images and background into The Rock Cobbler came to us from our friends at GravelStoke.com – be sure to visit this link to see many more beautiful images of the 2019 Rock Cobbler.